Announcing

A NEW HISTORY AND BIOGRAPHY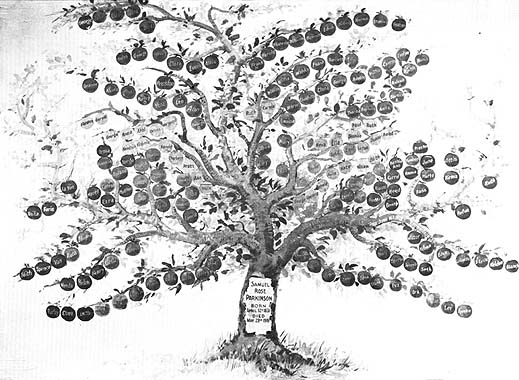 An appropriate volume for Academic Libraries,
Historical Societies, and genealogical
sections of Public Libraries
=*=*=*=*=*=*=
Announcing the Publication of
THE SAMUEL ROSE PARKINSON FAMILY
2069 Yale Avenue (1100 South)
Salt Lake City, Utah 84108
September 28, 2001
801-582-3668
Dear Cousins:
For many years, as the family genealogist, I have been engaged in research, correspondence, and some travel in an effort to extend the pedigree of our common ancestor, Samuel Rose Parkinson. For three decades I have gathered biographies and photographs of his descendants with the view of publishing a hard bound Family History, for I have found that the widely scattered members of our family need a sense of belonging and to know their place therein. This has proven to be a monumental task, and I appreciate the information you have sent me and your patience in waiting for its completion and final publication.
Publishers Press of Salt Lake City has advised me that the book should be available the first part of October, and I am certain that this will please many and surprise some. The cost of the book will be $25.00 if picked up at my house (see address above) or the home of my daughter, Carol P. Staffanson, who lives at 8488 South Terrace Drive in Sandy, Utah. (Terrace Drive is just off Visconti, going west from Highland Drive at about 86th South). Her phone number is 801-733-0096. It would be well to phone either of us to determine our availability.
Since the majority of family members live away from Salt Lake County, this poses the problem of shipping. May I suggest that if you have family members living here you have them assist me in this regard. Since there is a good possibility that the book will be available the weekend of LDS General Conference, those of you who are attending or have friends or family who will be in Salt Lake at that time may want to pick up your books then. (Please call to assure that the books are ready and we are at home.) I also hope to soon have a few copies at the Deseret Book Store as a convenience. If shipping is necessary, the price will be $29.00 to cover the postage and a mailer. Please send requests to my daughter at the Sandy address. A form is included at the bottom of this letter for your use.
We believe that you will agree this is a very fair price at present day costs for this book containing 900 pages and 1100 illustrations. We feel that it would be an appropriate gift for birthdays and Christmas, and we would appreciate your sharing this information with other family members whose addresses may not be on our list.
Sincerely,
Preston W. Parkinson
---------------------------------------------------------------------------------------------------
To: Carol P. Staffanson
8488 S. Terrace Drive
Sandy, Utah 84093
Please send me _______ copies of the Parkinson Book at $29.00 each for a total of ______. My check made out to Preston W. Parkinson is enclosed.
Name: _________________________________________________
Address ________________________________________________
City, State, Zip ___________________________________________